Pablo Bronstein – a fan letter
I went to visit a friend last week, who has transformed his capacious but chilly Victorian living room into a hymn to plants. Exotic cacti and palms and succulents, six deep in the big bay window, some in jangly German pottery, some elevated on stands. A real Sergeant Pepper's collection of the hippest, life-givingest plants. And I remembered that my grandma had a similar set-up, in a sunny conservatory she had built on the front of her last home. It was a room, quite simply, for growing plants and having a sit down amongst them in.
My friend showed me a book from the artist Pablo Bronstein, and that is the actual point of this post (I'm getting all Ronnie Corbett). There are many things I already loved about his work. He mixes draftsmanship of imagined buildings with choreography and performance. He says that (presumably both in work and in life) he's interested in "showing off". He created this beguiling video piece, which I could watch for days.
I also love his home, a Georgian cottage on the south coast which he has decorated with colour, wit and a sense of the grand played inside a small space. He's picture above, for example, in The Chinese Room. Wow, a Chinese Room. Where's mine?
My friend gave me yet another thing to enjoy about Mr Bronstein – his way of writing about buildings, rooms and places. In this interview with Frieze.com he talks about buildings that have influenced him, and the whole thing is a delight from start to finish. Talking of his teenage style aspirations he says this:
"My first attempts at architectural evocation in 3D involved going to the Laura Ashley section of the homeware shop Homebase to spend my pennies on green polyester curtain tassels that I was convinced would transform my bedroom into Versailles, and me into Louis XIV."
Sadly this online piece doesn't have the wonderful photo of his teenage bedroom, but the print version showed a white-papered room stencilled with green Doric columns and other architectural features, with, yes, curtains from Laura Ashley. Better still he talks about very early childhood memories of spaces – I personally was obsessed with both swimming pools, and the little pen that supermarket cashiers sat in. Mr Bronstein writes of his desire for a Snake Mountain, lair of TV cartoon baddie Skeletor. "As I always took the side of the baddies in cartoons, my preference for their large stone structures was formed," he writes.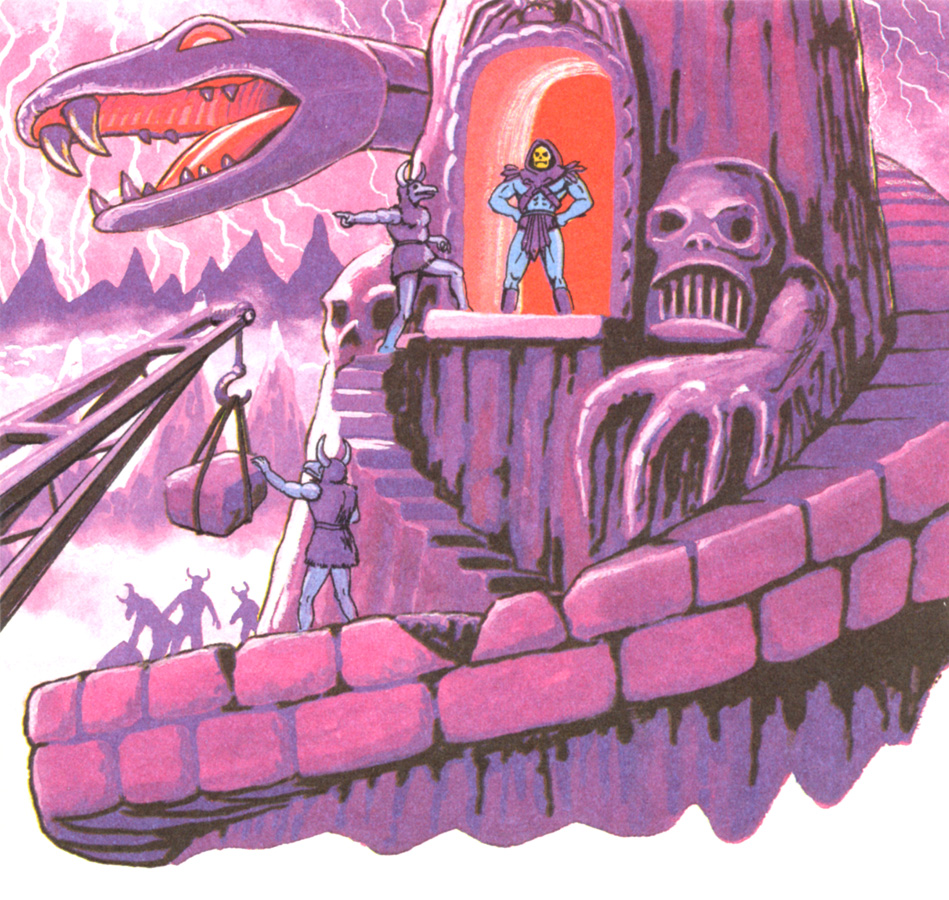 Honestly, if you are at all interested in antiques, historic houses, Post-modern architecture or an eloquent argument for the fun of being seduced by the surface, read the full article here. The book features his 'fabulist' architectural drawings of historic buildings, as well as documenting performance pieces. I really want to read it – although, I just realise, although my friend had two copies he didn't offer to lend me either. Instead I got the loan on a book about witches. Hmmm