Sculptor William Mitchell on his geometric relief works
Red granite, green metallised concrete, the green-blues of nickel and plenty of grey, grey, grey concrete – these are the colours of the enormous geometric relief sculptures that artist and sculptor William Mitchell– now in his 90s – made during the 1960s and 70s. Many of which are listed.
William's imaginatively patterned creations appeared in Brutalist social housing projects, public parks, tunnels, private insurance offices, cathedrals, cinemas and much, much more. He had studied woods, metals and plastics at Portsmouth then the RCA, and having won an award to do a post-graduate year at the British School at Rome, he had also spent time in the office of Gio Ponti. I spotted – I think – his work (below) on a mooch around Whitechapel yonks ago and was bowled over by it. It prompted me to seek him out for a feature that was never published, so here it is now…
In the 60s and 70s, during what was a relatively socialist era in the UK, William was commissioned to work on various projects by London County Council and other councils up and down the country – which, given the amazing designs he produced now seems very daring. He recalls that prior to this, artists and sculptors were commissioned to create works to go on a plinth, so the scale had intensified and he was keenly aware that these new works were intended for whole communities to enjoy. He told me, "the urgency for housing at the time was collosal, the demand was gigantic. These were enormous blocks of flats and I felt a responsibility to the people moving there. I started to work in materials that the buildings were made of. I was fortunate to be familiar with and I liked using concrete, brick and stonework. A lot of people didn't."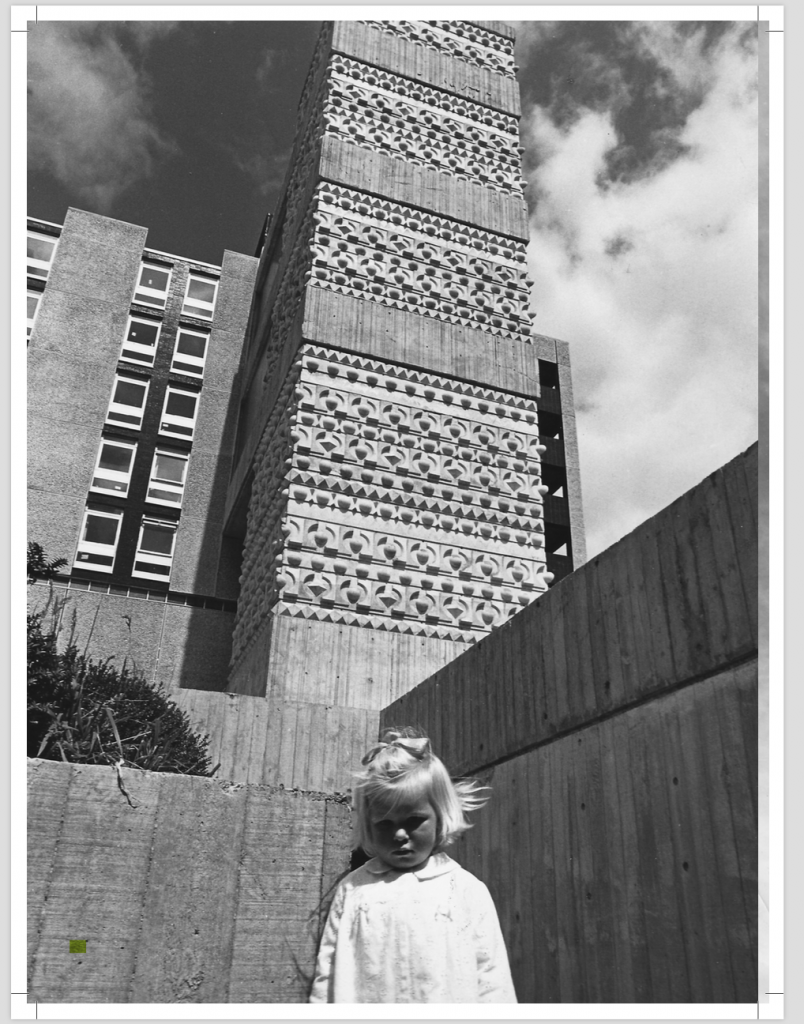 This familiarity resulted in some of the most beautiful creations using humble materials. William recalls that he got on with everybody in his teams and knew how to lay a brick or work with concrete and thus could influence how the materials were treated. "There was a quality about using concrete and brick that people were familiar with. I didn't have to convince them into it," he says, but he laughs when asked whether people instantly took to the work. "The architect or developer or contractor would hire a lecture hall and you'd go and explain what you were doing. Did anyone say 'what a load of rubbish? Oh yes! It was a battlefield for the architect, it was a battlefield for me and it was a battlefield for the people moving in."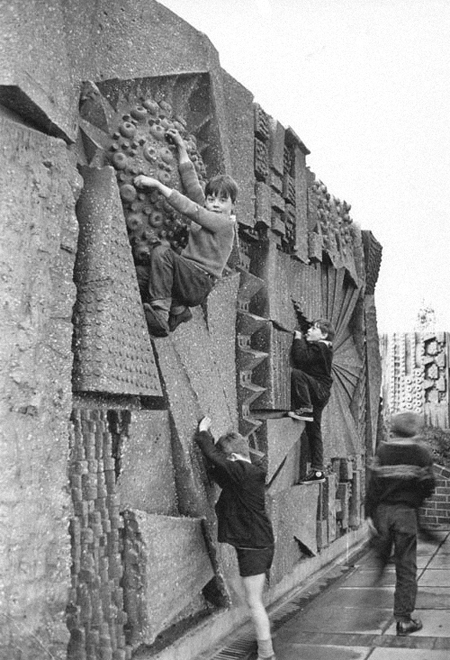 Much of William's work included more than just concrete however – and he has written a book about his long career, called Portray: The Eyes Within – which charts the many decades of his art, including a notable amount for higher-end clients such as Harrods. For the Curzon Mayfair, he created a striking wall of scultpured silver-faced nickel panels that you can still enjoy today.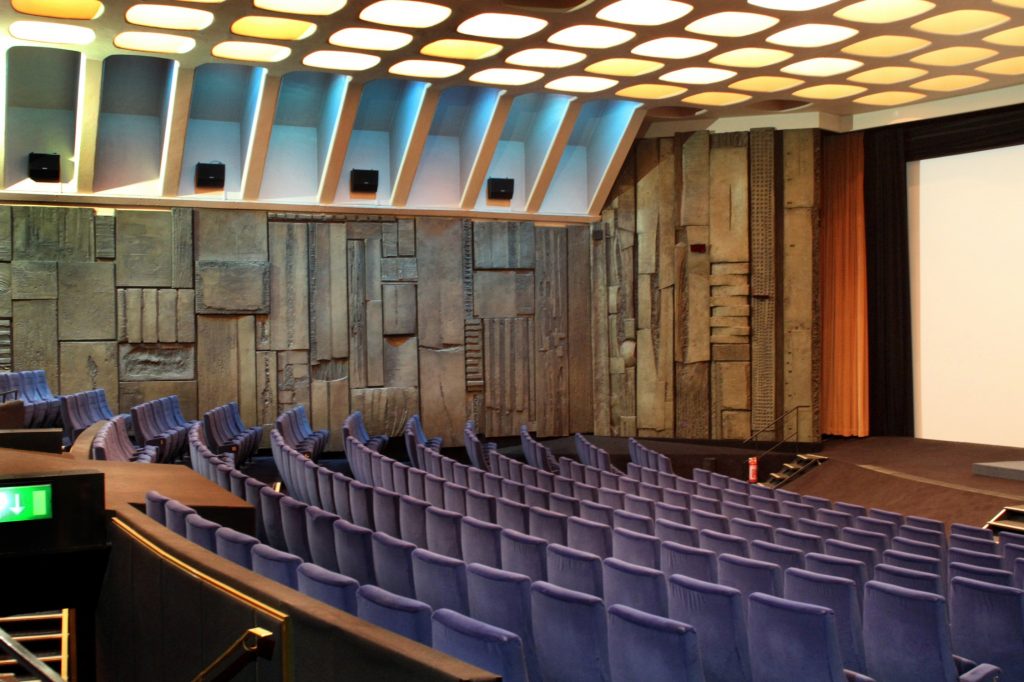 In the Co-operative Insurance offices in Manchester he worked with acid washed bronze…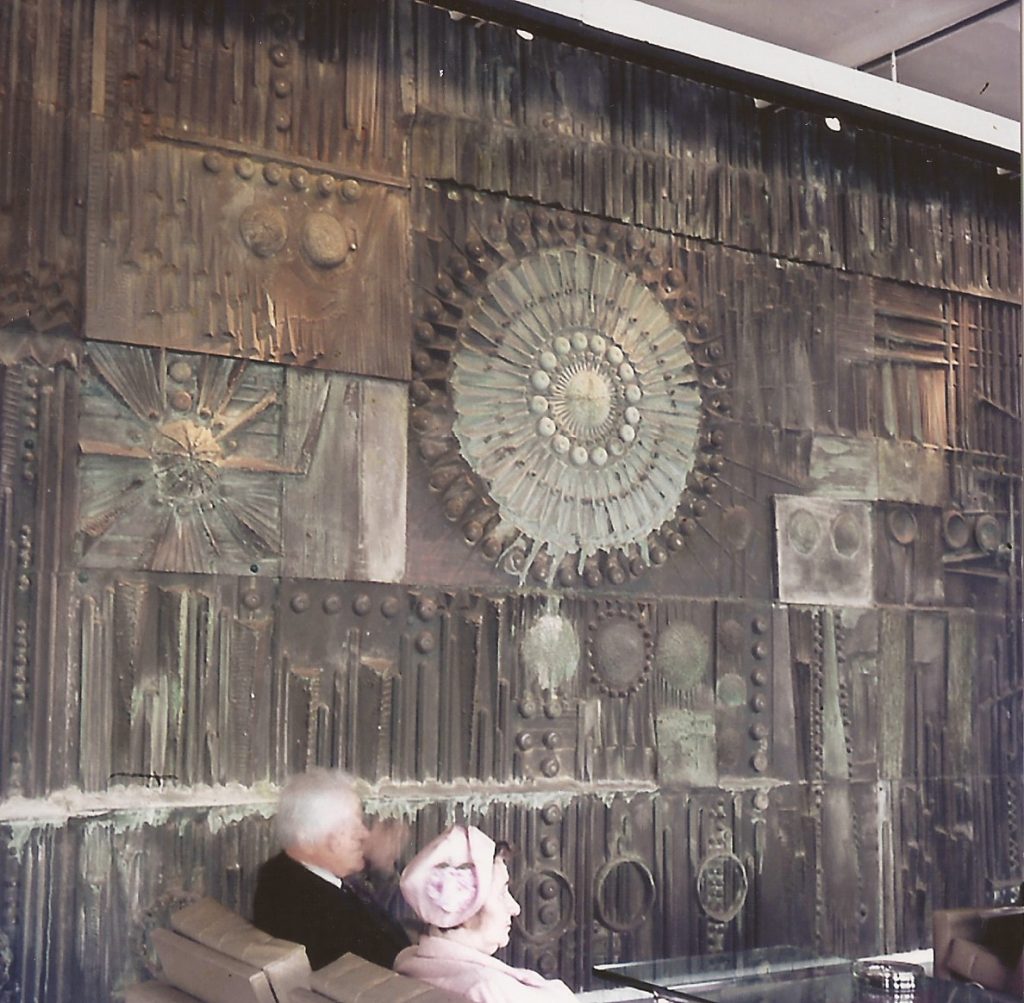 A lecture theatre in Ilkley Yorkshire features a nickel and silver bas-relief…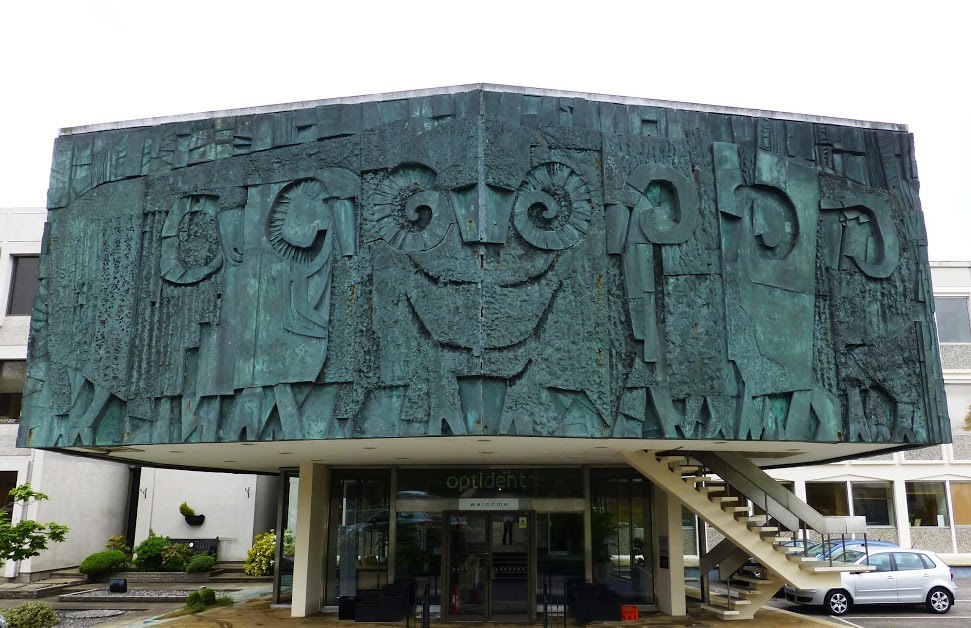 What was originally the Northern Polytechnic – it's now a University – features exposed aggregate concrete that resembles red sandstone…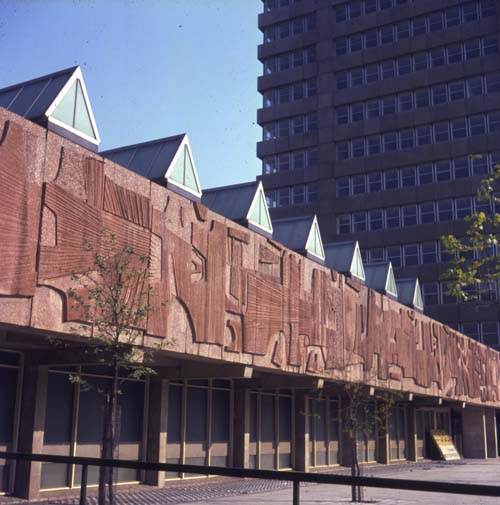 And the Minut Men at Salford University, known as Faith, Hope and Charity, are completed in a variety of materials…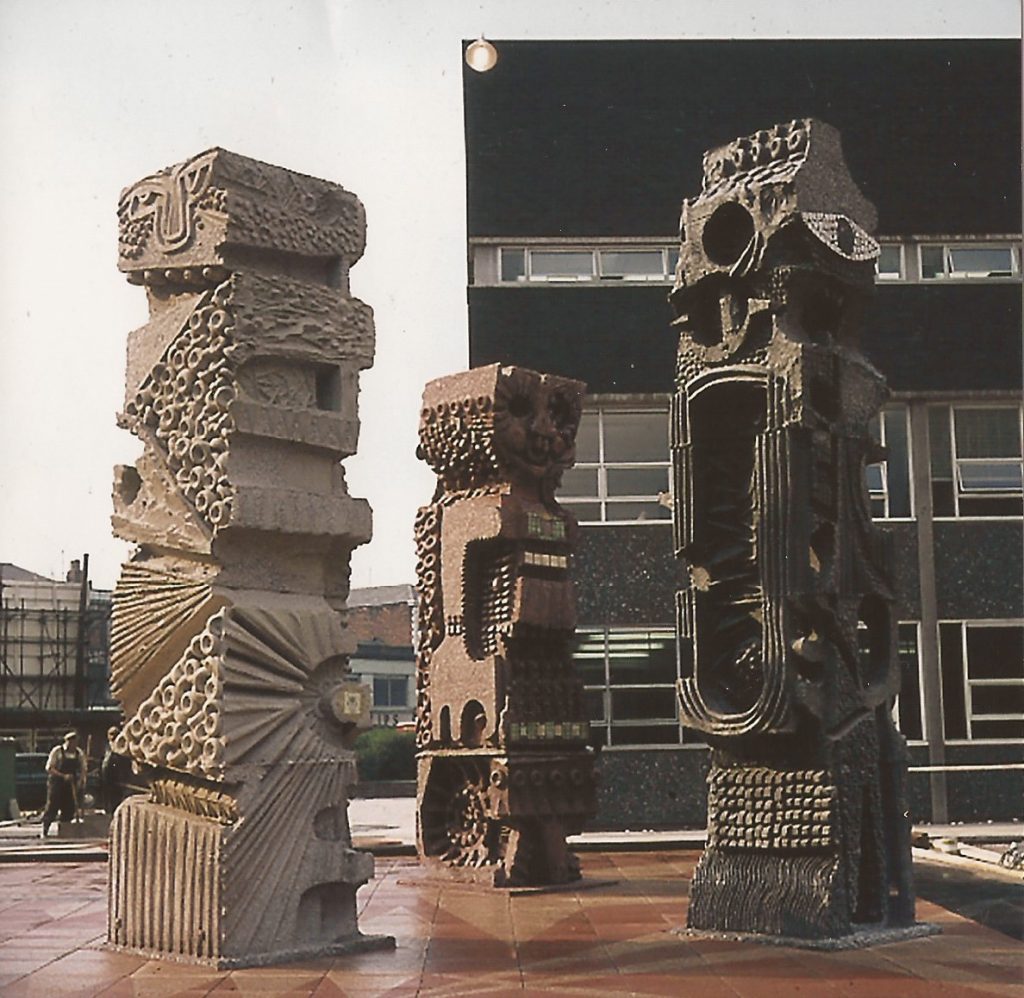 Whatever William Mitchell worked with, its the scale of the pieces that awes and what has been left intact has whet the current seemingly bottomless appetite for Brutalism, concrete work and geometric form.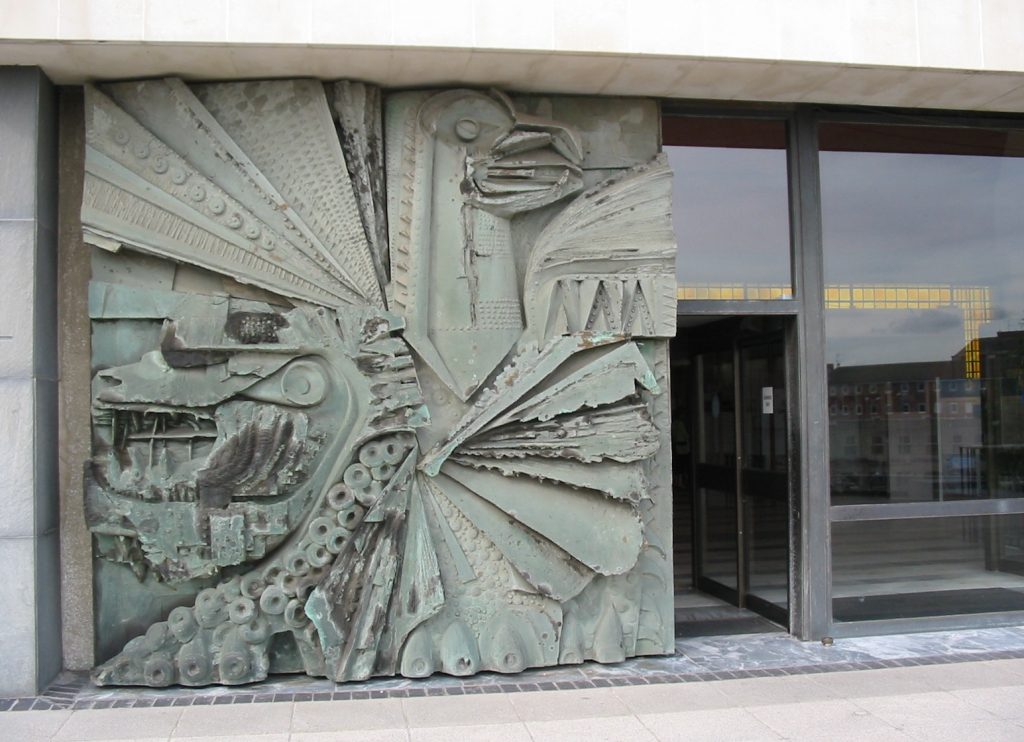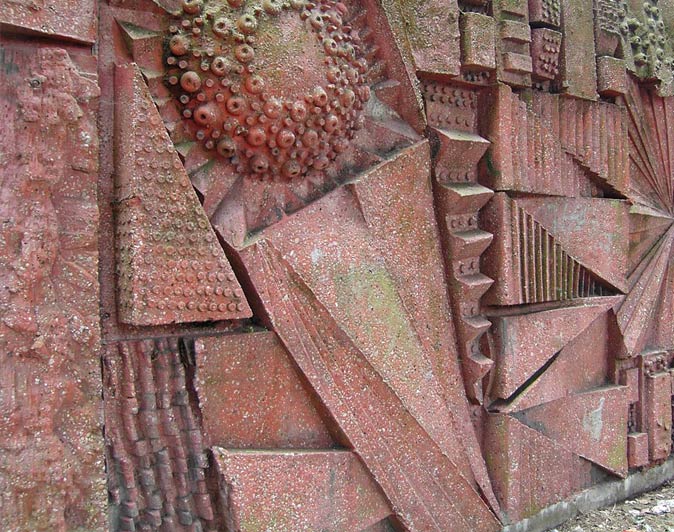 The artist himself is refreshingly down-to-earth about what he's created. "Looking back I think my God, did I do that?," he says. "Why didn't I do something different? I am critical of my work. It's not my place to educate, if people are prepared to accept it then terrific. Some of the projects I did were good, some were reasonable and most were controversial – none, however, broke the bank. These were the products of an exciting time, and one that I don't think we shall see again. It was great to be part of it."
Find out more about William Mitchell's book Self Portrait: The Eyes Within here
C20 run events such as walks and building visits including – I believe – a tour of William Mitchell's mural in Croydon which has been undergoing refurbishment.