Real Reveal: Black not bleak
Hiya all and Happy New Year – I'm just emerging from a 'heavy winter cold', just like the Queen. Having had family over for Christmas I'm finally feeling well enough to enjoy the fruits of my labours before they arrived – i.e. an epic (for me) decorating project.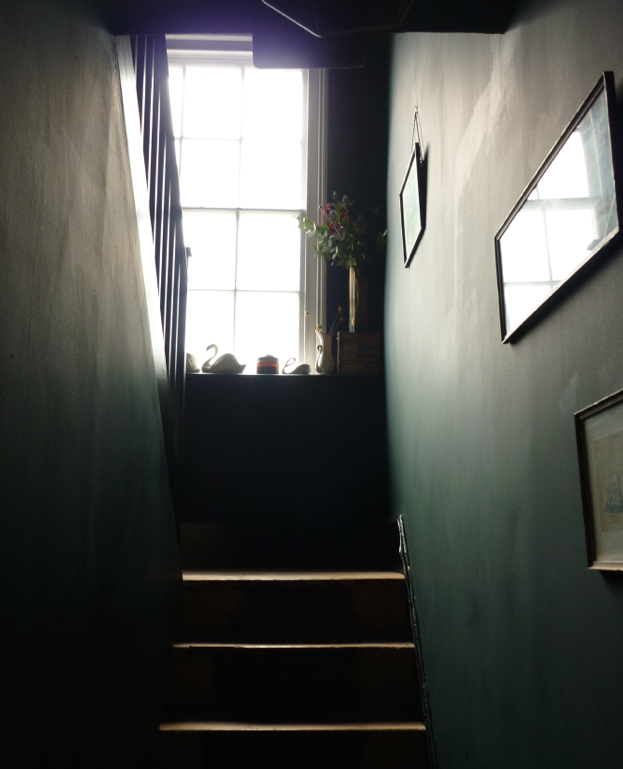 Yes, after years of giving it all the chat, I finally got up that stepladder* and finished painting the whole of the stairs and hallway black. In the Christmas fog it looked pretty – erm – gloomy, but now the sun is back out again I am completely loving it.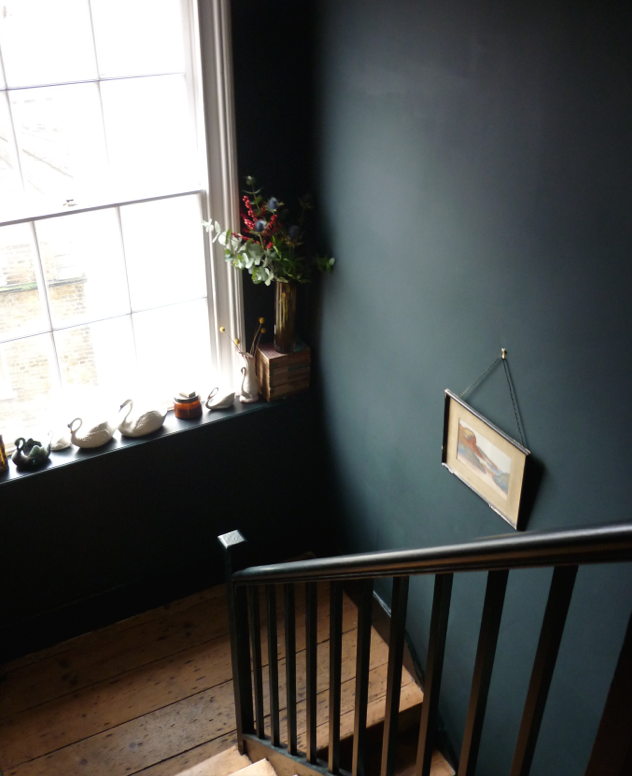 I was desperate to paint everything black ever since visiting a house that was, about a decade ago. It was an old coaching house in Bristol that owners and designers Goodchild Interiors had painted black everywhere. The effect was so intimate and cosy, and made wonderful works of art of every window view across the river. A later visit to legendary Denis Sever's house with its black staircase just confirmed my feeling that in a light-enough house there is no better decorating decision than going all-black.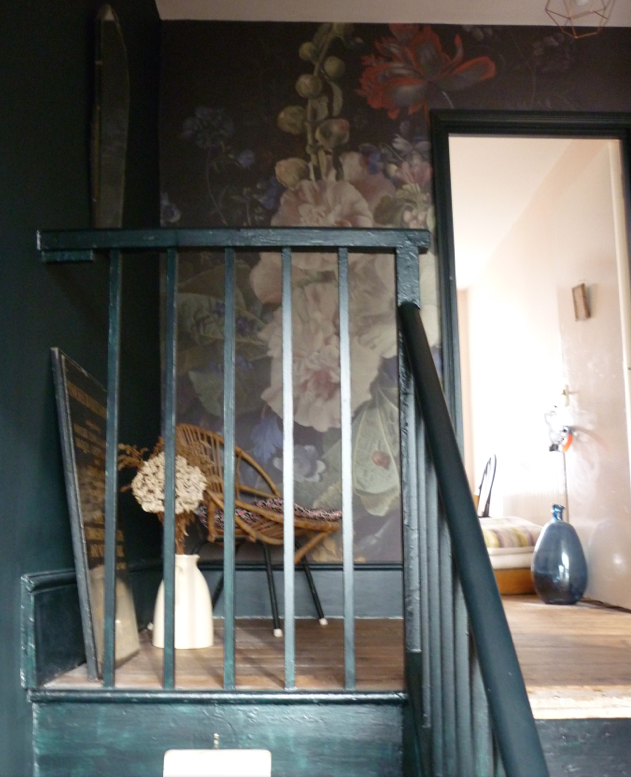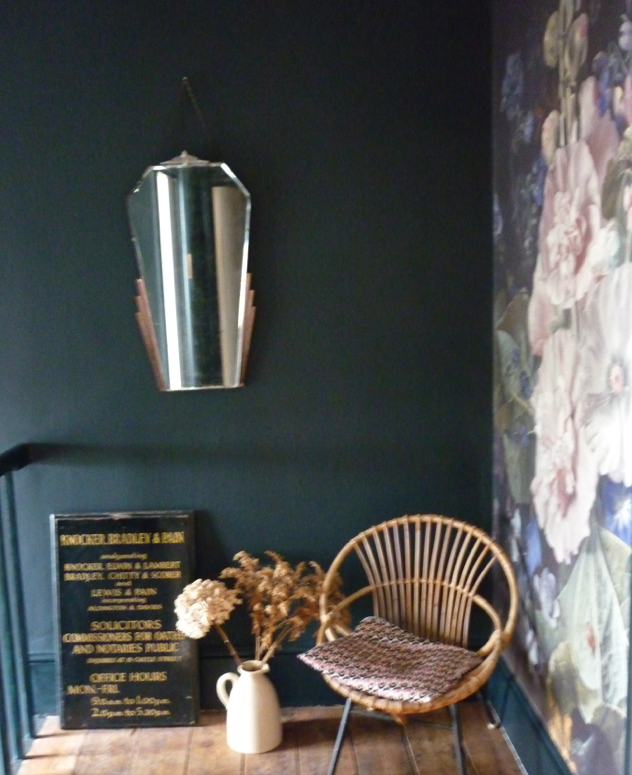 Excuse the wonky picture, but you get the idea. It was interesting to me that once the black paint went on, visitors suddenly noticed the full-wall Surface View mural which has been there for two years – the black obviously frames it and makes it both stand out and fit in better.
It took me a while to get used to it – it's kind of show-offy isn't it, and its such a big change from before. And I literally completed it on the shortest day of the year. But I am loving it, thrilling to the suddenly dicey-feeling descent into the narrow darkness of the stairs. Set on the cliff with the Old Town falling away down hill behind, the house is incredibly light. It also has extra-large windows on the south side for good measure. It can make you feel a little as if you are living outside all the time. The hallways and stairs form a spine through the house that now feels like it gives you a sort of shelter. You feel cloaked rather than exposed.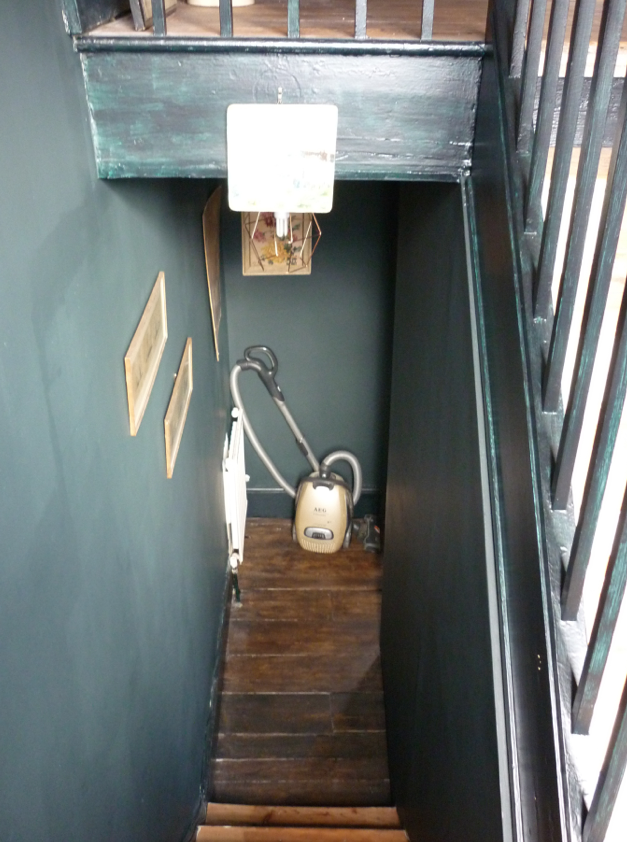 Yes, I left the Hoover in this picture just for devilment. Also you'll notice that everything certainly needs a second coat. What can I say? Christmas performed an intervention. Strong sunlight on black shows up the lot, let me tell you. It's all Farrow & Ball Black Blue, and especially in the eggshell it has a wonderful bluey depth to it. So there you go. One more coat to go. Back to spending weeks going up and down the stairs on my bum, like a slow-mo stair lift. Hope you like it – any nerdy paint questions welcomed.
*The top bit of the hall was way too tall for stepladder alone so I had to use a paintbrush sellotaped into a length of pipe. Up a ladder. Don't look at that bit too close up is all I'm saying