Post-apocalypse estate agents
Well hello. It's been a while. I have been away in Corfu, reading a gaiety of post-apocalyptic fiction, including The End We Start From. I recommend this short novel to anyone, and its observations of having a young baby amid an environmental catastrophe are touching, frightening, and also frequently funny. When the narrator muses that post-apocalypse life seems to consist of constantly looking back just a few days and seeing the previously awful circumstances as a sort of eden, in light of new events, I laughed out loud. It feels like that already, don't it?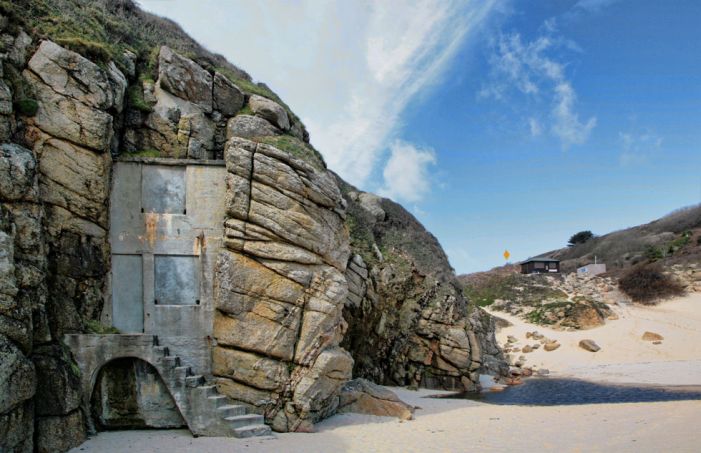 It got me thinking, not for the first time, about bagging oneself a suitable home in anticipation of the end of Western civilisation. There's certainly going to be a run on caves, ruins and bothies come the end of days, so best to get one's claim in quick. Who knows how long we have left. Here then, for your delight and reassurance, is my first suggestion of where I might go when the sirens go off. It is a haunt from my own childhood, in a picturesque location in very desirable West Cornwall. When I was a child this little two storey house was open to the elements and you could wander about in the broken bottles and smell the piss – thrilling! You could even walk up the internal concrete staircase to look upstairs – but I was too scared. The windows and door have since been concreted up. It was built by Rowena Cade, who created the majestic Minack Theatre in the cliffs above, as a Wendy house for her nephews and nieces. Just look at the great view – perfect for watching a mushroom cloud roll across the horizon.
I always fancied it as a permanent house for my little self aged 7, and now it's back on my radar. I could learn to fish and eat wild garlic. Decorate with gorse flowers and look out for messages in bottles washed up from other survivors. No good if sea levels rise. What about you – have you got a hovel in mind if it all goes a bit Mad Max? The Post-apocalypse Estate Agency is open. More dilapidated des-res suggestions coming soon x