My mum came up to visit with lots of old photos for me to look at – amongst which was this one. Not very old, and I'd forgotten I'd taken it, but it was intended for the blog. The picture is of my childhood toy caravan, a most precious object which was brilliant to play with but also had a serious standing in family history.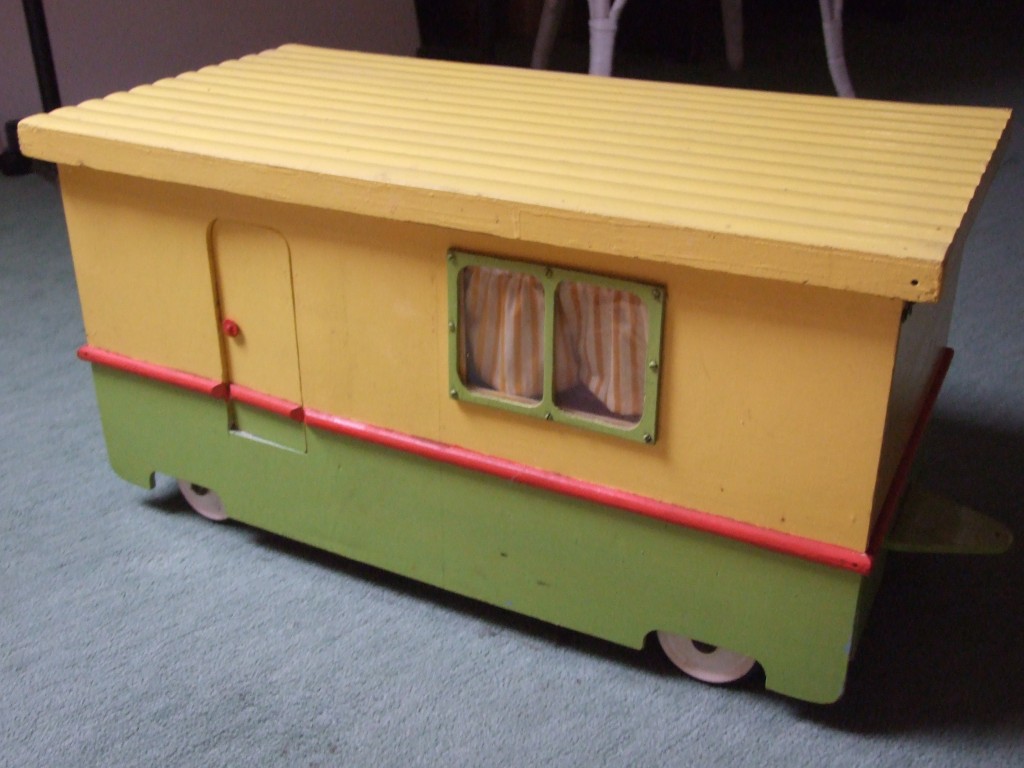 It was made for me by my grandpa, with interiors and upholstery from grandma. I've written before on the blog about my grandma's love of sale rooms, and all the things in my house which come from her house. But I haven't written anything about grandpa. A skilled craftsman, he made me a few things while he was alive –  he died when I was seven – always working in tandem with grandma on the soft-furnishings side. A bit like a sort of Robin and Lucienne Day, although grandma favoured more gingham than Lady Day herself. The caravan was extra special though as it was a gift that had previously made twice already – one each for two of my older cousins. By the time I appeared they were already grown-up, and it felt like a great honour to have my own caravan made for me. Caravan.3
The design is great and made it so much fun to play with – the side hinges off and the lid lifts off, revealing three flexible rooms inside with movable walls. One wall was the extended headboard of a fold-out bed for heaven's sake! There was a little bathroom (much nicer than in an actual caravan) and a kitchen remarkably similar in design to grandma's own. The genius of the layout was that you could play interior designer (gotta start somewhere) and switch the layout to accommodate whatever wrongly-scaled dollies were currently holidaying in it. I also recall one of the other models, still living at my aunt's house, was painted blue, so the models were the same, but sort of in different editions. Sorry I don't have pictures of inside – maybe a Real Reveal another time….