Thanks to all readers who joined in on the big brass taps blether that I stared when trying to find some affordable brass taps for my kitchen. Although the kitchen isn't quite ready for a real reveal yet, a comment from another reader made me think I should show you what my solution looked like. I eventually, at the suggestion of my electrician (a self-confessed Scottish Socialist adrift in Kent, and obviously a firm believer in the democratic principal of good design for all), bought £15 garden taps. Here they are, finally in situ.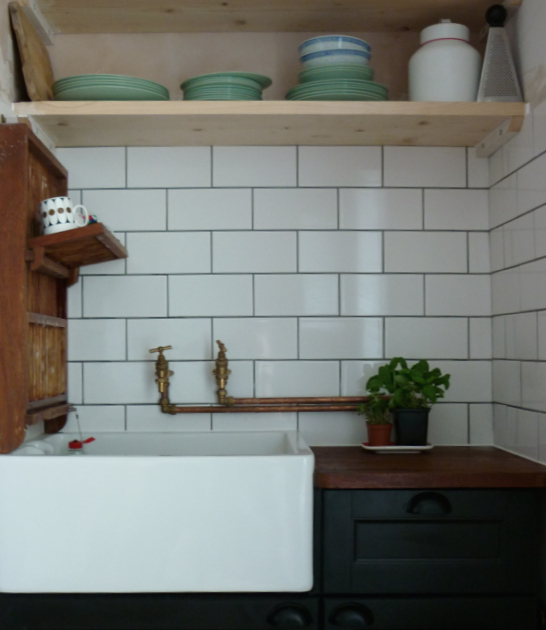 Don't they look great? Excuse the bits of dirt – think that's on my camera lens – ahem. The taps are teamed with my Edwardian drainage rack, new butler sink and Jill's brick tiles (cheers!). The alcove here is only 43cm deep, much shallower than a standard kitchen unit. The old sink unit just stuck out a whole metre into the room – space-wasting madness. Instead I pushed it all back, and bought the same Ikea units we've used elsewhere in the kitchen, but in the 37cm depth that is meant to be for creating sideboards and stuff. Works a charm.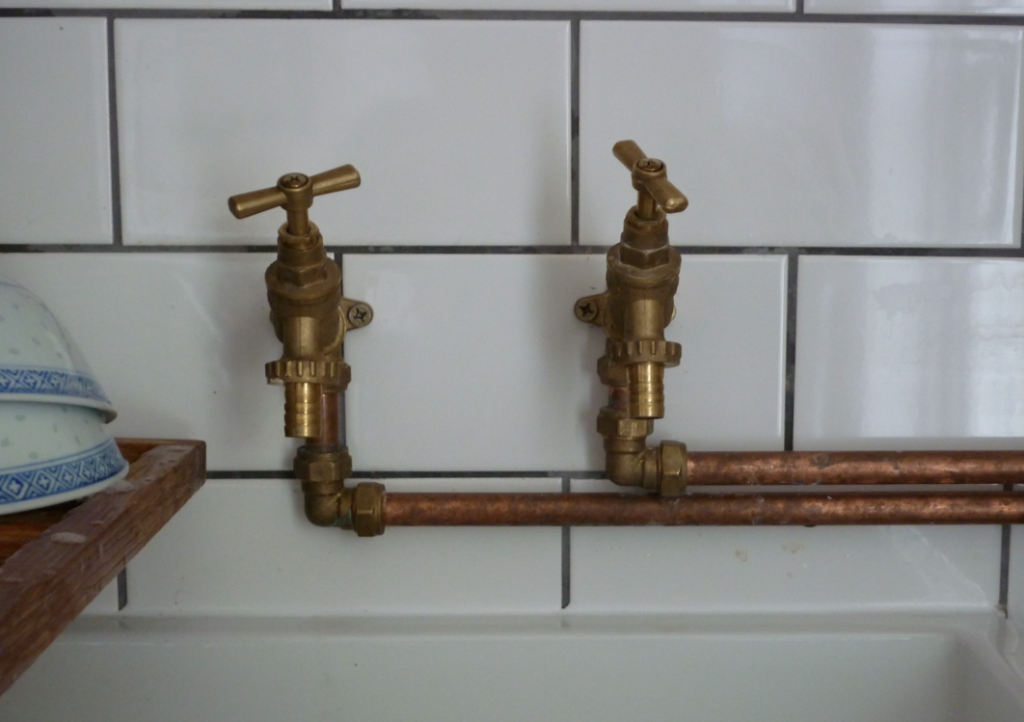 Anyway, this post is called 'Two Ways' because I've just had photographic evidence in from Rachel, the above-mentioned reader, reporting back on the results of her solution to the brass taps conundrum. She bought chic, minimalist chrome taps and had them dipped in brass. An idea Jill suggested might work if either of us was brave enough.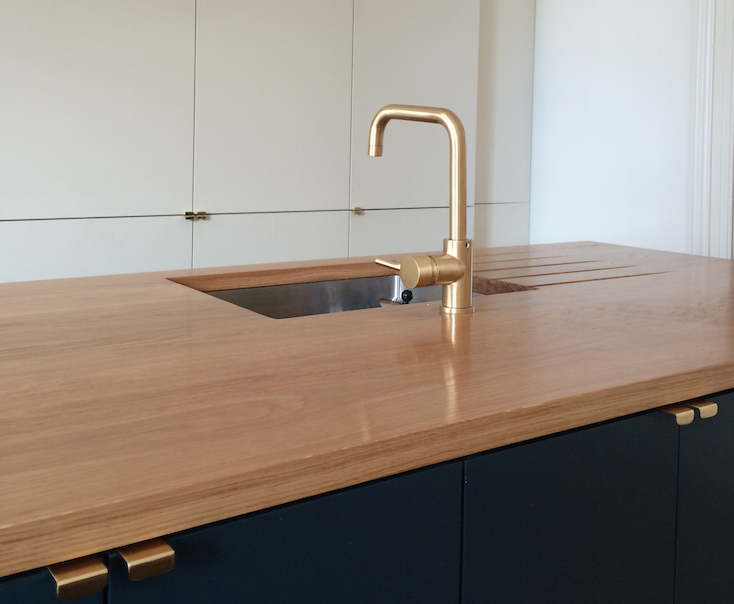 Rachel's fantastic pictures show that it clearly does work – although she says the finish doesn't stand up to too-close scrutiny, from here they look gorgeous. As does the whole kitchen – love those brass handles too. What a space.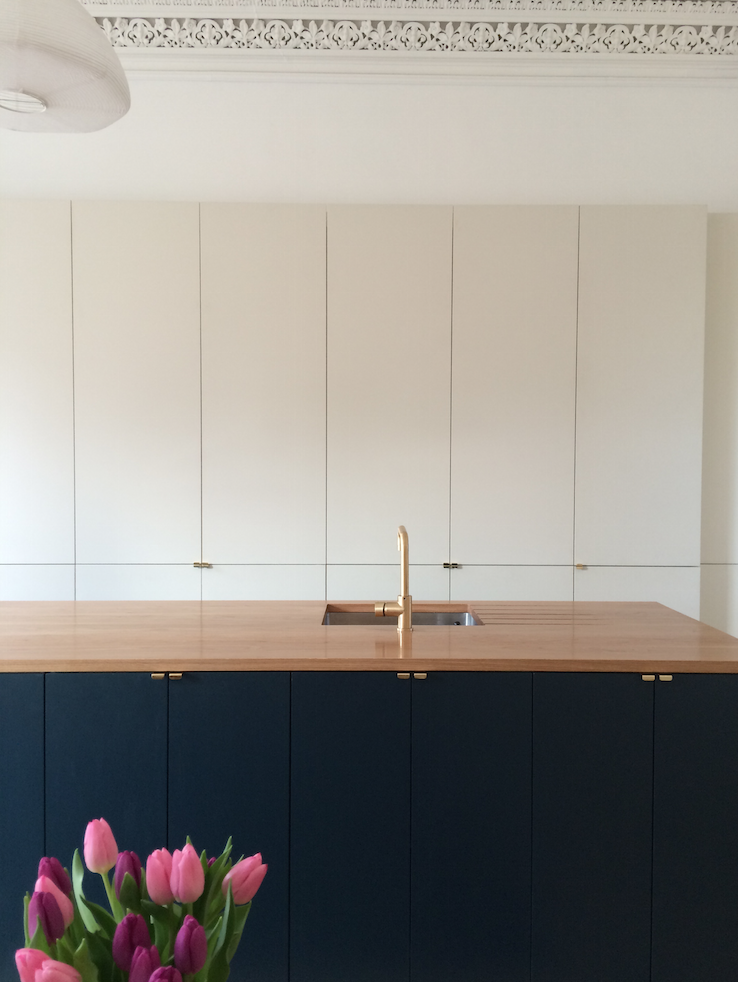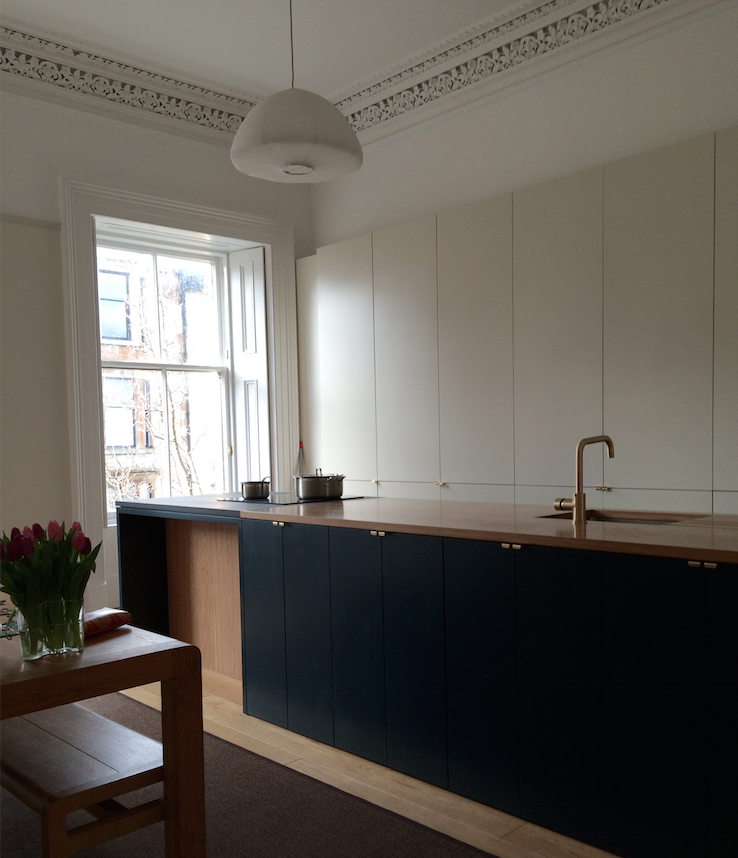 So there you go – two ways to get brass kitchen taps on a budget – one I would characterise as 'Tom Dixon', the other 'Percy Thrower' – readers, take your pick. Thanks Rachel for sending the pictures – they really do look splendid. And my own kitchen will be revealed very shortly – just waiting for a last bit of plastering to go off….