Trend or travesty: Cork walls?
Well, if Ilse Crawford can make it look so nice…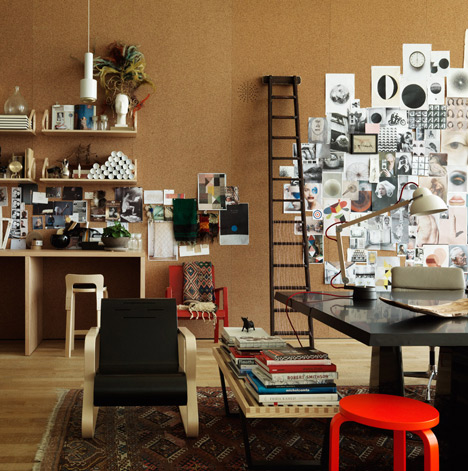 …I'm going with trend. Operation Move Son Into Old Home Office is coming along. I say coming along, one wall is decorated with big tester stripes of bright green, blue and black. There's also a massive roll of natural cork waiting to be put up on a full wall – a la the above image. I have to say, I love my son's drawings, but they are probably not going to look quite so 'curated mood board' as Ilse's do in the space she designed for a fantasy client at the VitraHaus showroom in Weil am Rhein.
What else am I stealing from this image? The idea of putting a few shelves on top – and yes I do want a ladder, but hello health and safety, my son is 5 and keen on climbing. It's already been noted that a room full of drawing pins might be an issue but I'm a daring parent and he's no fool.
Real Reveal coming at you asap, but I've got a holiday to go on first and some painting to get on with. Happy weekend everyone.