Hey. I'm in the process of moving – very slowly I might add – and all the attendant clearing out that involves. Although the place we're moving to is bigger, it doesn't have the advantage of a cellar to hide everything in, so I'm trying to do a massive edit of stuff. One of the things I'm trying to edit is…. those books. I have probably said before but I don't really like books displayed in my house. I don't need to prove I'm well read, y'all. And while books do furnish a room, the inevitable Rough Guides, Made In Chelsea autobiographies and thrillers people have lent you because you were too polite to say no kind of spoil the effect. I have shelves in a cupboard where all my books live, except for some charmingly themed 'collections' that are fit for display.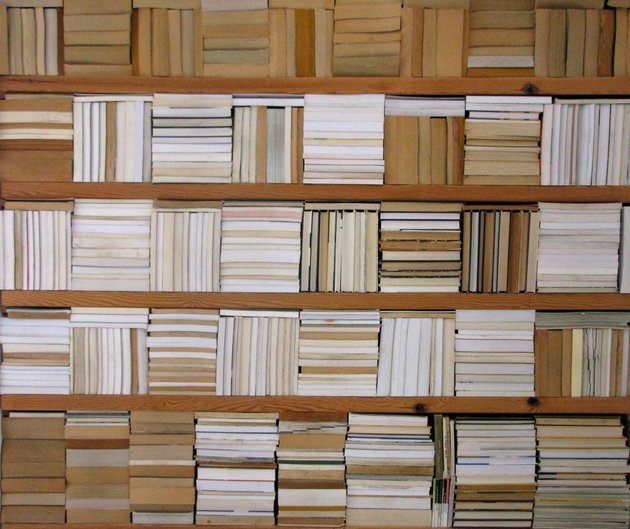 In the new house however there is no such space, and so book storage will be a thing. In two of the bedrooms there is a huge deep shelf formed by the stepping in of the chimney breast. Here the books will live, stacked vertically, spines showing. Or so I thought. The Huffington Post just did a story about this artist, Gali Cnaani, who was inspired to stack her books in various ways that are more like weaving, highlighting the subtle colour differences of the paper within rather than the bold brights of the spines. I have to say I love the top image and am thinking of replicating it.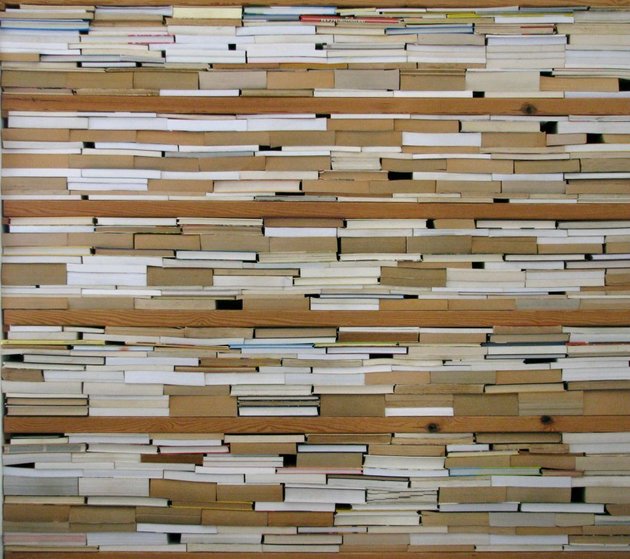 Yes, prepare to have a very annoying wait if I promise to lend you a book cos I won't be able to find a damn thing. But be honest – when could you? In yet a previous house I organised the books in graduated rainbows of colour. Looked amazing – couldn't find a thing. In the current cupboard – no system whatsoever and no, I can't find a thing. At least this system won't involve that rage of knowing something is RIGHT IN FRONT OF YOUR EYES and you still can't find it. I'm fully expecting to develop a kind of sixth sense eventually, intuiting which book it is I'm looking for by the mottled colour of the pages alone. Or just operating a kind of lucky dip system. Thoughts?