Happiness is a new office
After Ros and I called it quits on our old office I moved back home to work while she moved to her new home in Margate. I've worked, on and off, in my house for years and sometimes it felt ok and sometimes it felt great. It was a privilege in those years where I was getting to grips with being a Mum, not having to rush into town to an office to be on someone else's clock.
This time though, with my only 'real' day experiences taking place at the school gate (a place that can turn the most sanguine person raving nuts – I'm not the most sanguine person) or the place I sometimes buy coffee on the way home, I was spending hours and hours at my house where life was starting to feel tiny and quiet, and the cat was copping a lot of feedback on my mental state. I love my house, but I was starting to hate it. Its dynamic as the family HQ made me feel like a trapped housewife even though I was sat at a desk working. So I moaned. A LOT. So much that my husband found out about The Office Club, a hot desking solution in the Bussey Building, which is the epicentre of creative cool things in Peckham. The place I'm sitting now typing to the sounds of trains rumbling past and conversations between other self employed people going about their very varied work.
Here's the building shot from across the train tracks at Frank's. I'm sitting somewhere south of that yellow banner.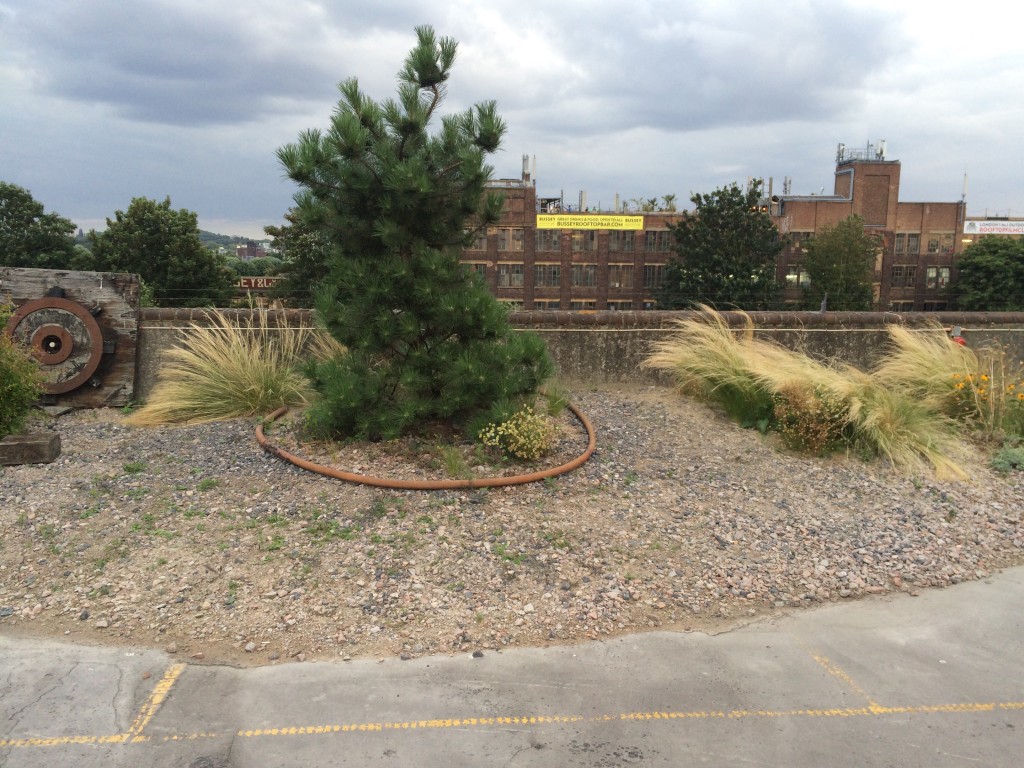 Now my days start with a 15 minute walk through Peckham, past the lovely streets around Choumert road and Blenheim Grove, past the hundreds of salons and nail bars, the butchers and Khan's, then through the alleyway to the building.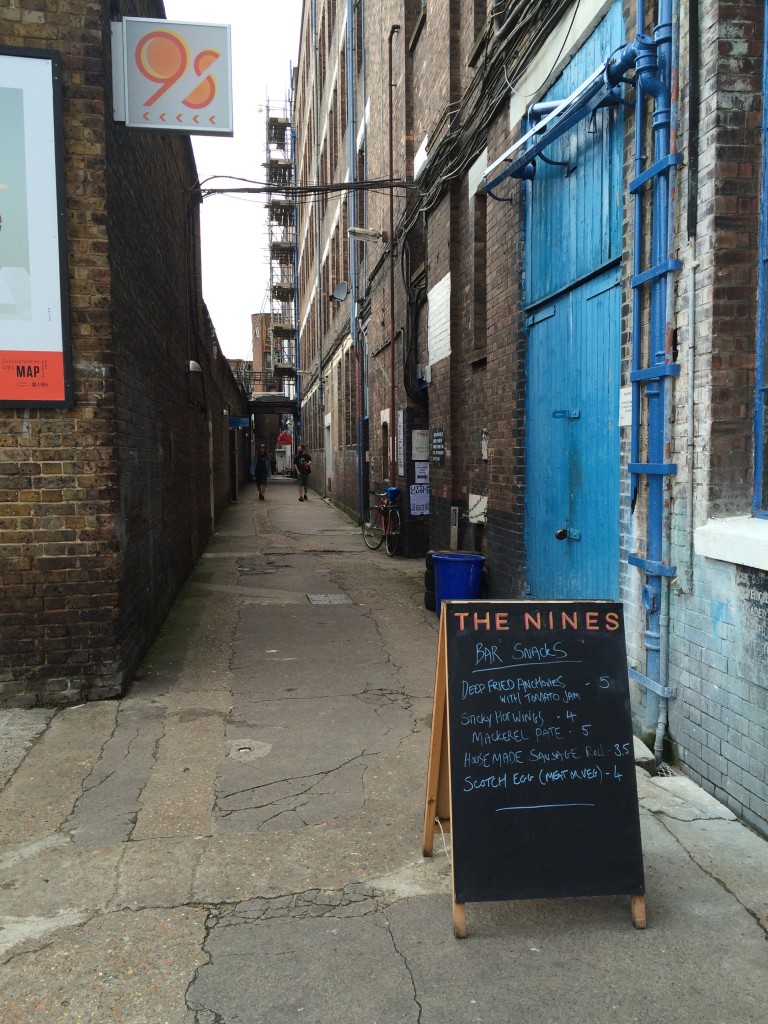 Even the entrance to the OC lifts my spirits with all those posters advertising stuff I probably won't go to but at least know is on.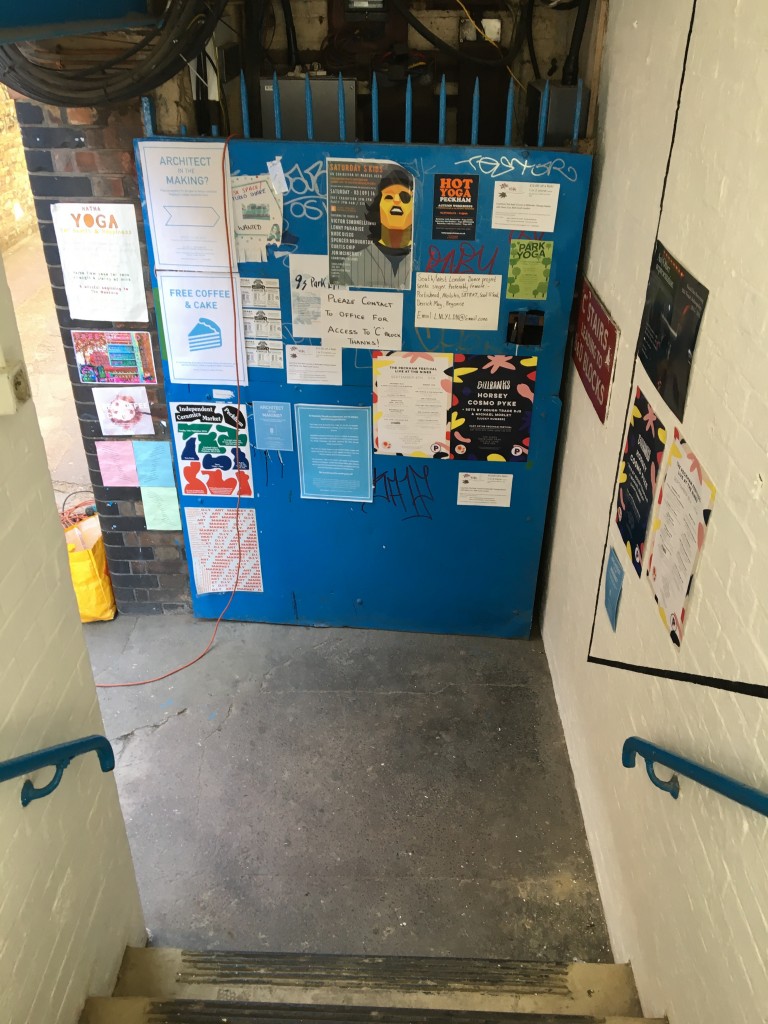 There's also always something a bit mental going on – like the indoor fire I mentioned before.
The Bussey is part of Copeland Park business centre which is a collection of buildings and out the back there's the brilliant little pasta hut where you really can't be eating lunch every day, though you really want to.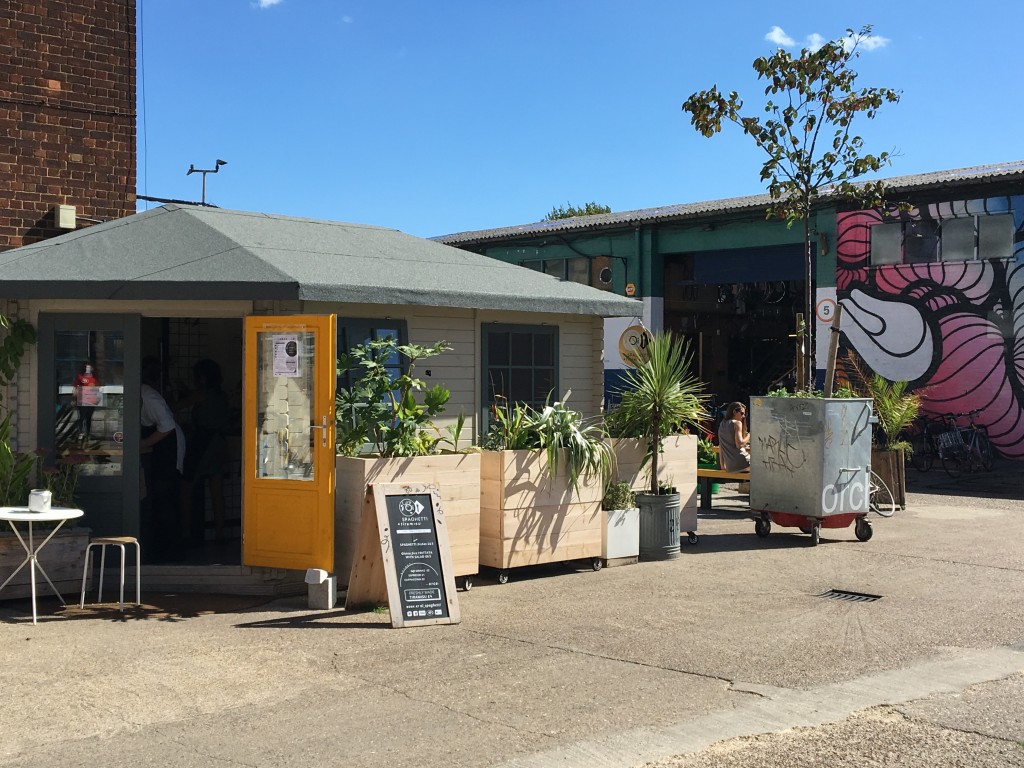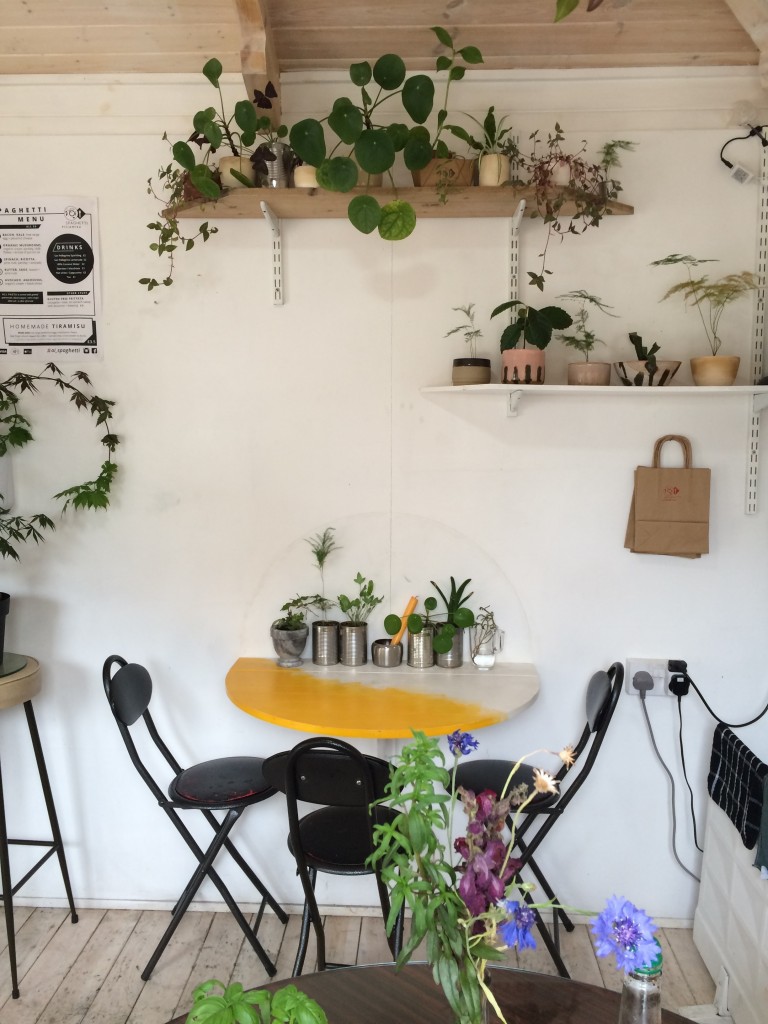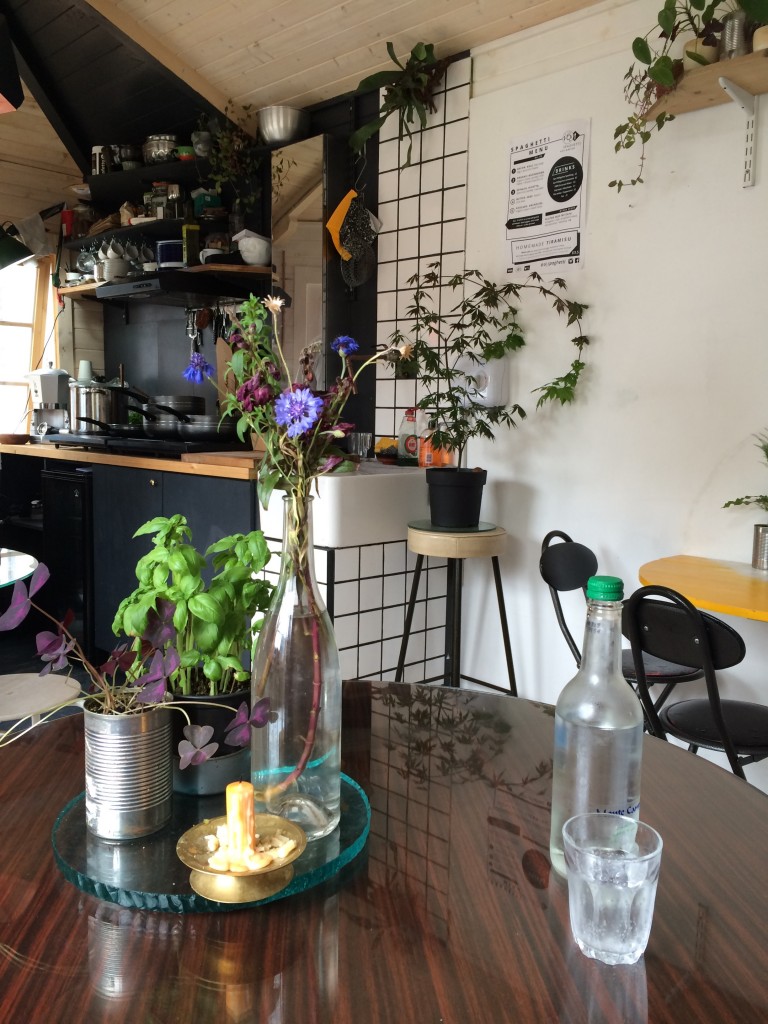 It sells plants too. Obviously. Check out the frittata I had recently (the only non-pasta option).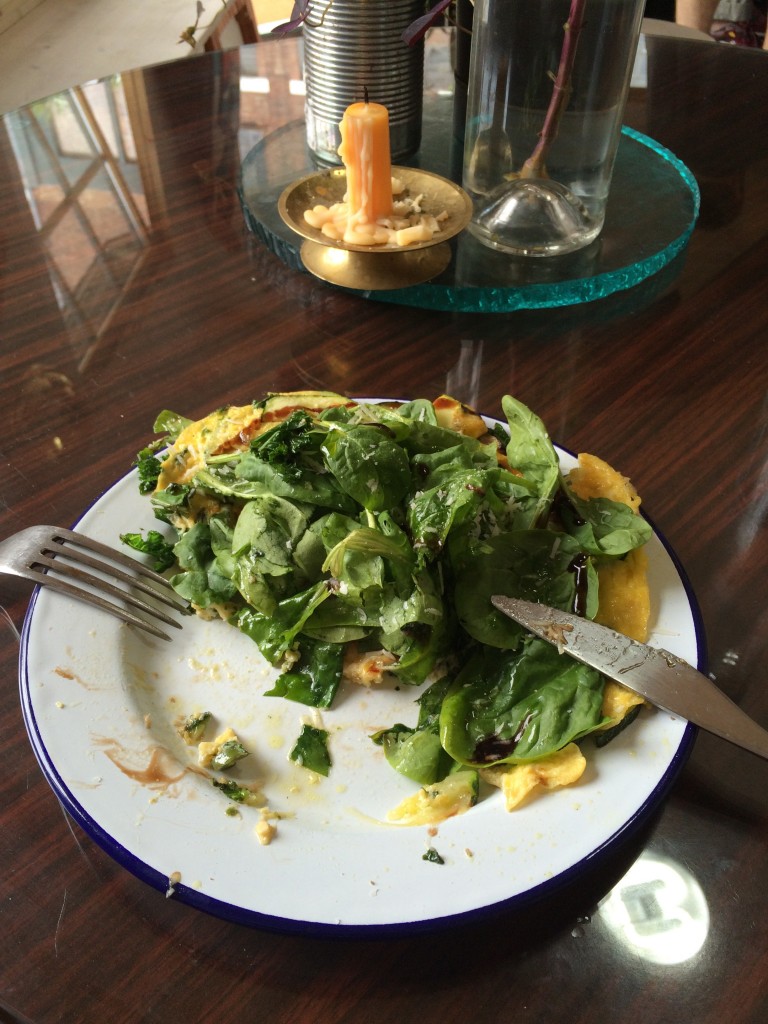 There's also The Nines bar, the CLF cafe, a bunch of yoga spaces and Bussey Rooftop bar, where you can have a G&T with a view back over to Frank's.
At the moment, they're setting up for the Peckham Festival outside so there's a lot of cute trees in wheelie bins being moved about.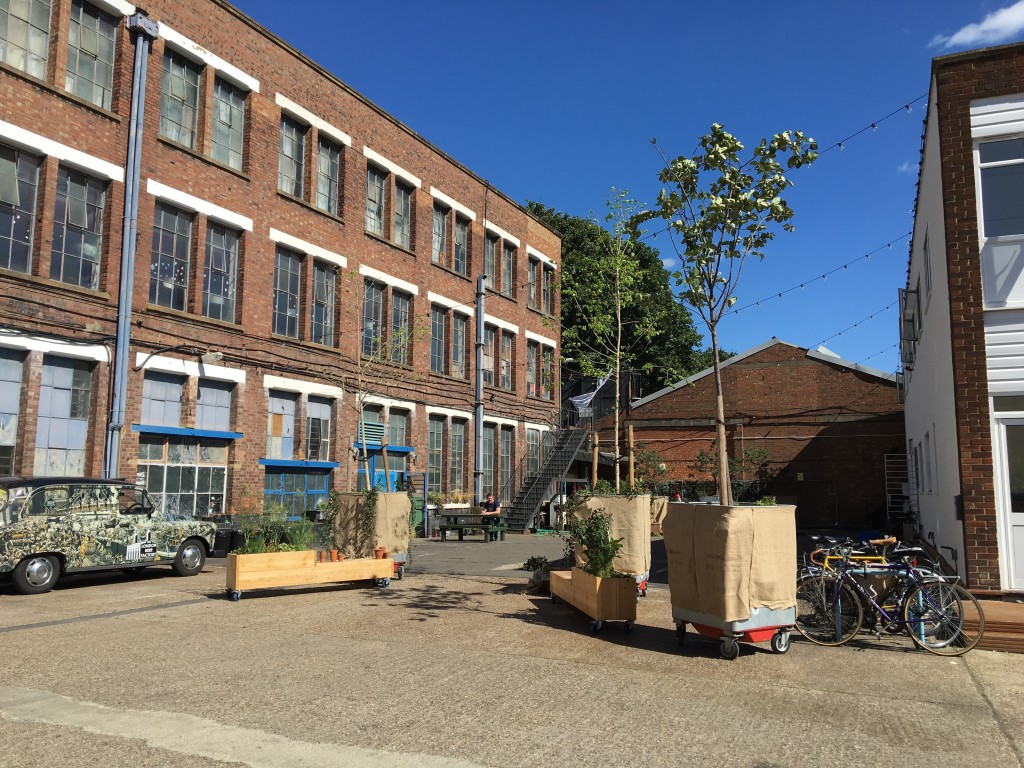 The Peckham Festival is on this weekend so a lot of the creatives here are opening their studios up for it but there are also events and open studios taking place all over the neighbourhood. A shout out to Casey Mollett whose lovely textiles will be for sale on sunday at Sonsoles Print Studio.
I'll let you know as and when I discover more good goings on in the hood.