Bobby Brown had his, ladies have their own – to change their mind, of course. And I have. In Margate this weekend I did some thinking with a paintbrush. After outlining my bold plans here before the weekend, I'm back to update you. Painting shit black – forget what the Rolling Stones told you – is not something to be done lightly.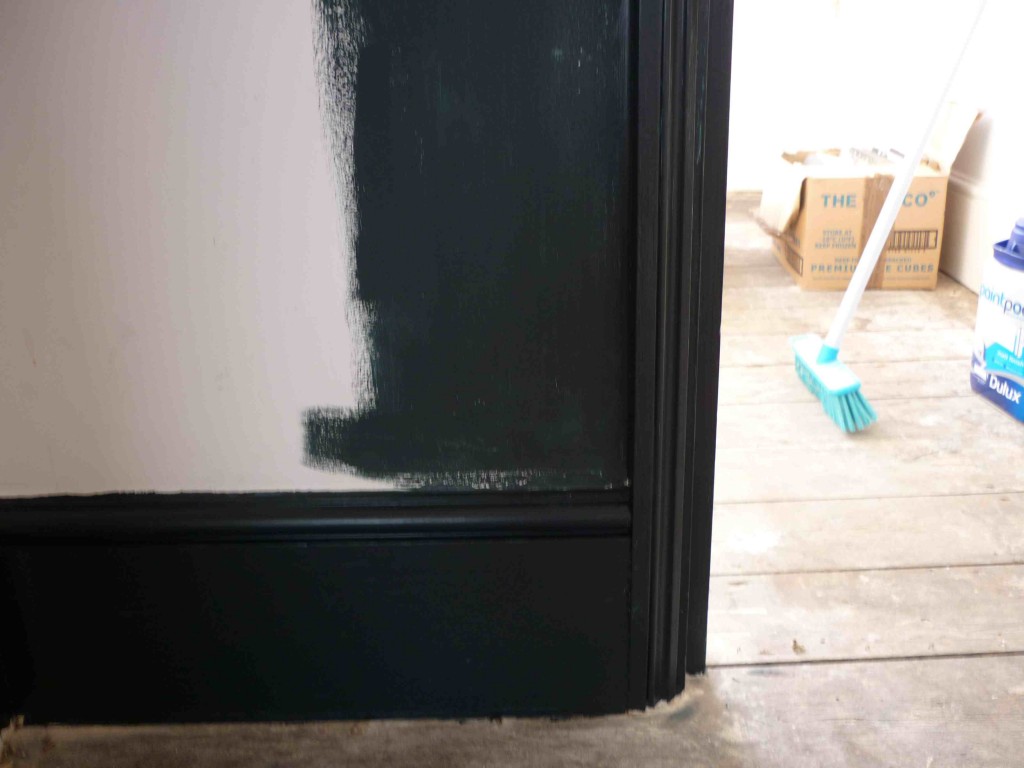 First off, got to say, this Farrow & Ball Black Blue eggshell is beautiful. It's the colour it must be at the very bottom of the sea. I actually bought exterior eggshell because they were out of the interior stuff, but it makes little difference.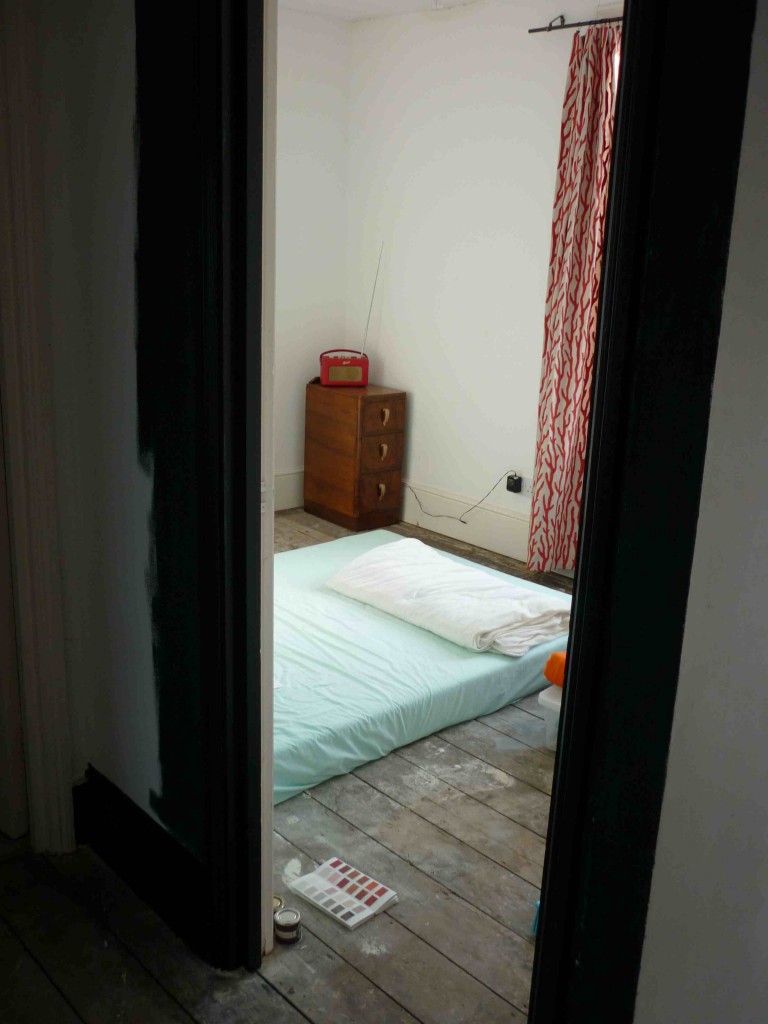 Looks smart don't it? An instant 'period' look, and much nicer than the yellowing old white gloss. Below is the view from the bedroom, complete with my inspiration image taped to the wall. The black also pushes the far doorway further away, emphasizing the width of the hallway.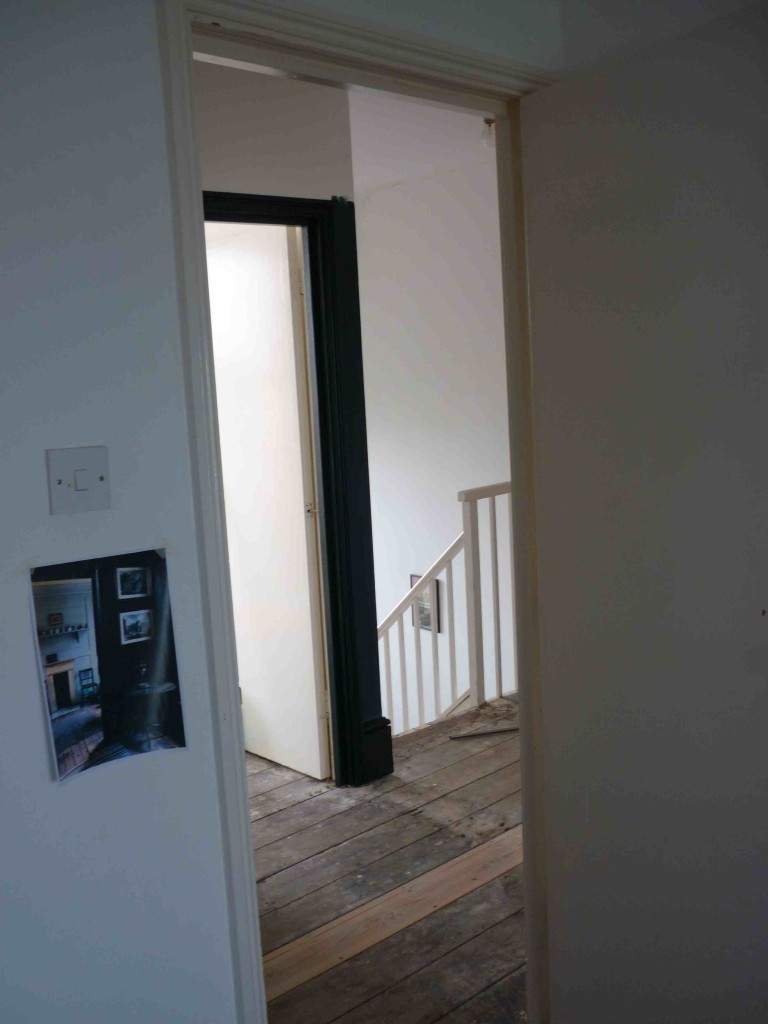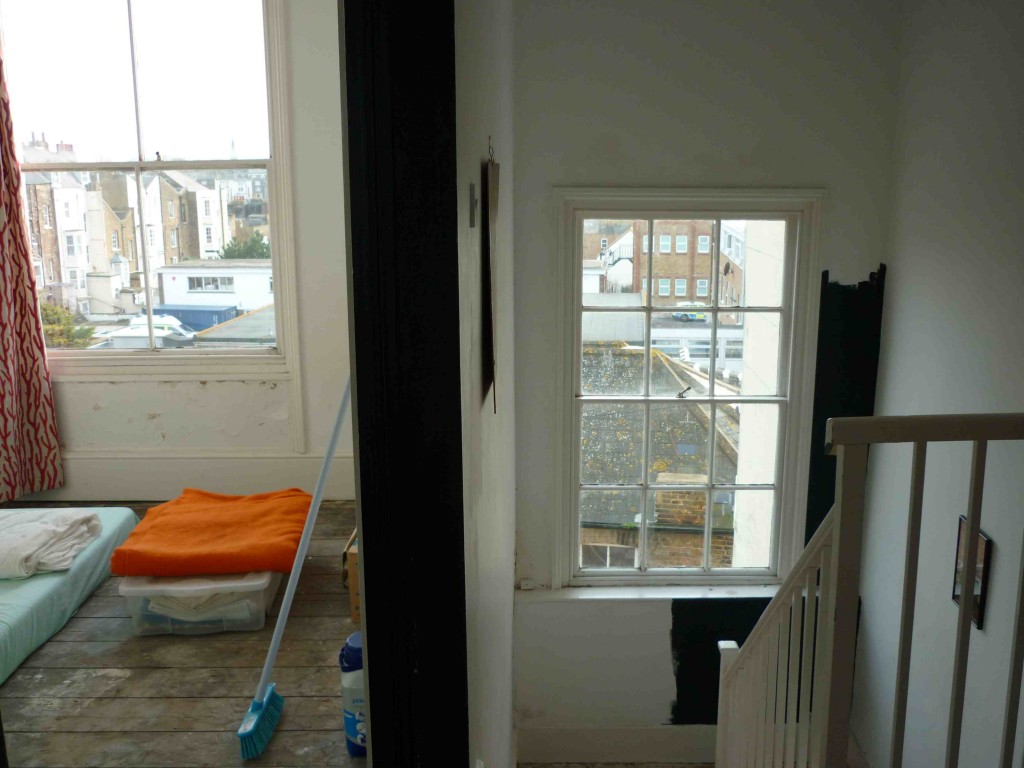 So far so good. But here is where I got to thinking… This landing, above and below, is in many ways the nicest bit of the flat. Incredibly sunny with light from the sea on one side and the town on the other (and a great view of the local cop shop, curtain twitchers).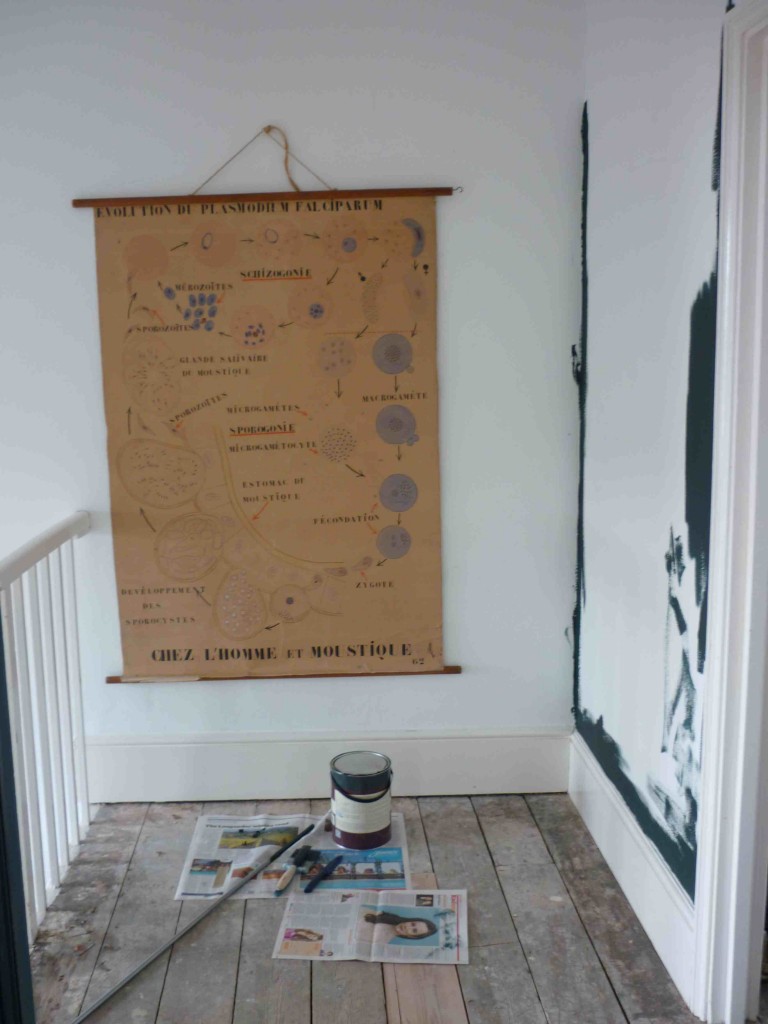 The plan was to paint the whole stairwell and landing black, but in Saturday's glorious sunlight I couldn't quite commit. Instead it's going to be the downstairs hallway, a funny little u-shaped non-space leading to the kitchen and the stairs, that will be getting the all-over paint job. I included this picture just because the red bucket – there to catch leaks – pops so nicely.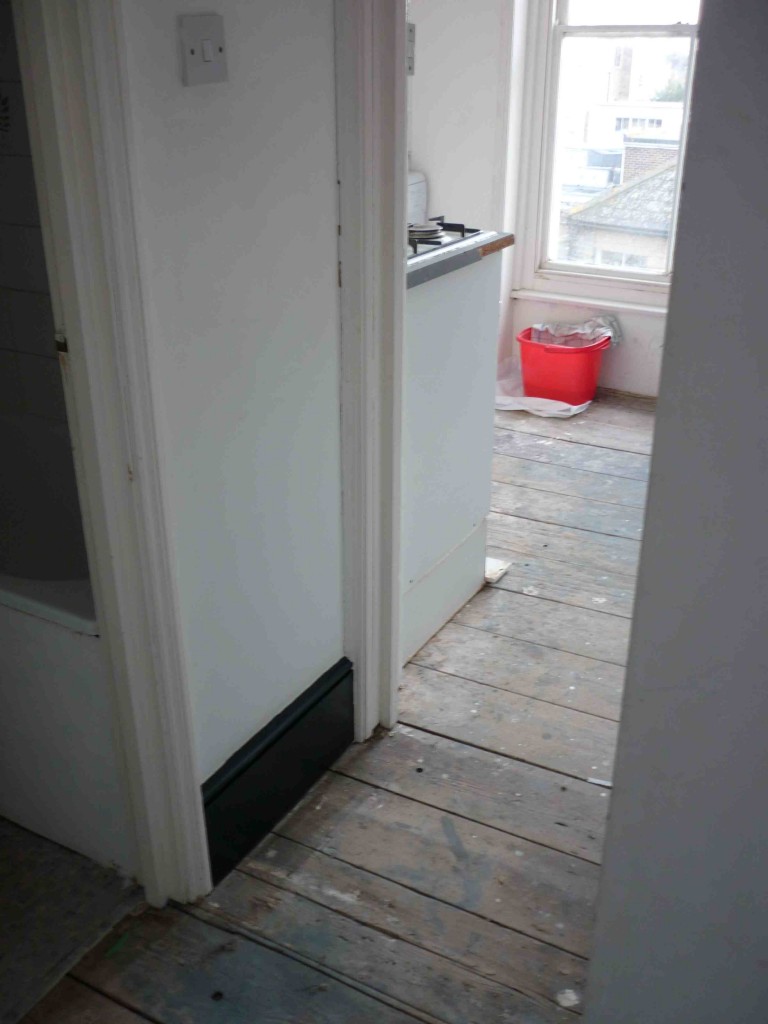 I also painted the woodwork in the living room. The fella said pink and black was a bit Elvis-y. The cat didn't bother her arse to comment.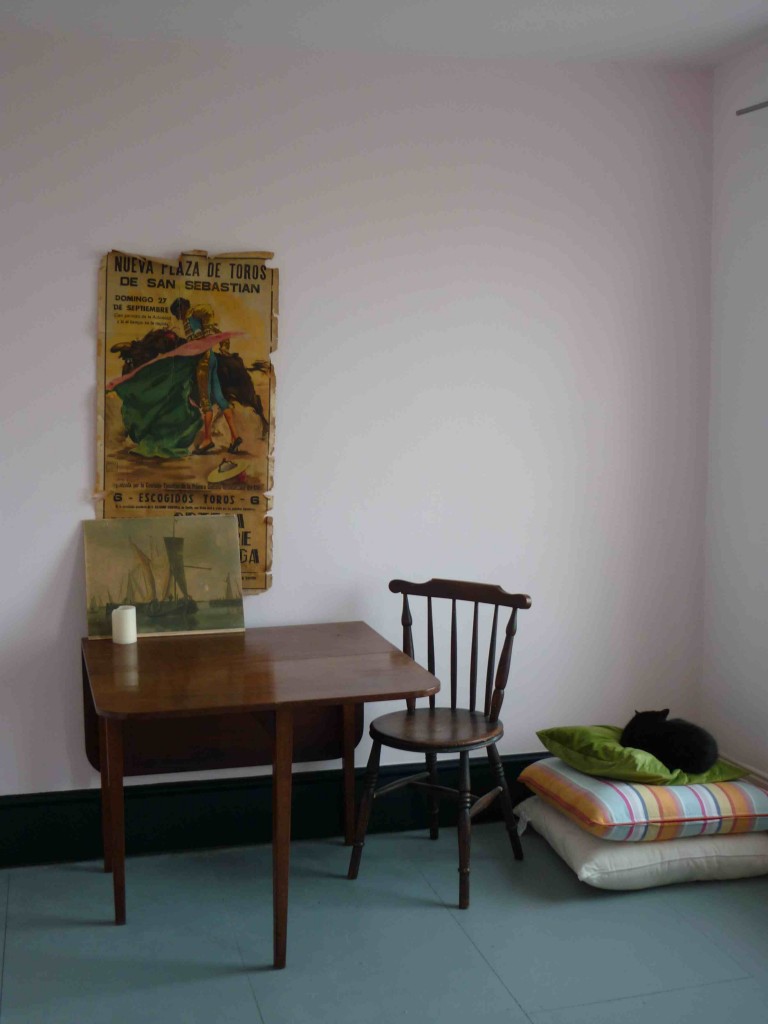 OK, last bit of decorating chat. This, below, is the little sea-facing bedroom that has been designated my study – by me. Outside you can see a bright green bit of municipal lawn, the sea, and when the tide is out, bits of pinky-golden sand. The perfect place then for some Pink Ground from Farrow & Ball. The Kent County Council library card is representing the red formica table I intend to get one day as a desk.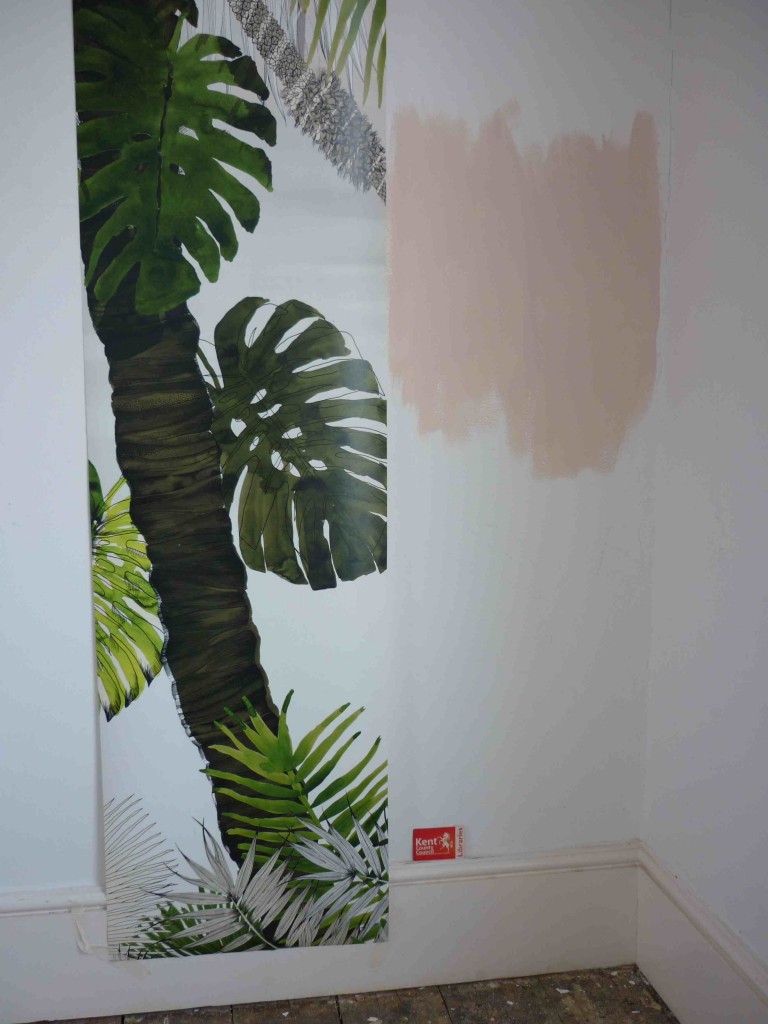 The wallpaper is a very recent addition to the plan. It's Designers Guild, and you buy three panels in one to make up a picture of palm trees, rather than a classic wallpaper repeat. This is just an offcut from a place I'm working, and I doubt I can afford a full set. But isn't it great? It reminds me of those GCSE art still lives that always include a spider plant. This room is only just coming together in my mind. Expect me to moodboard the hell out of it over on Pinterest shortly. *Update. I just have. Here…